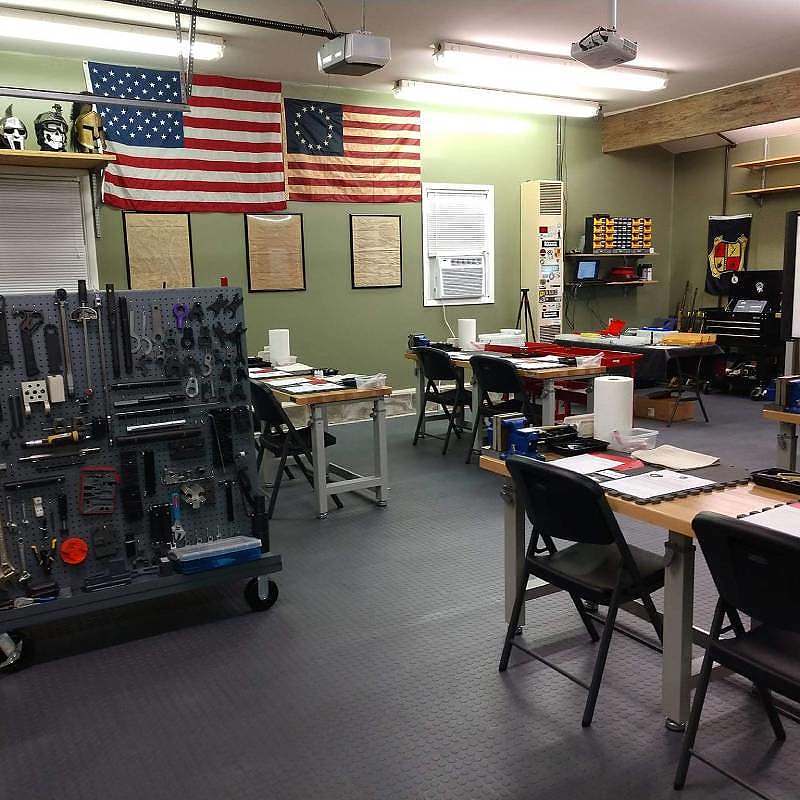 Join Gunsmith Chad Albrecht, to learn an intimate technical knowledge of the quintessential American Rifle, the AR15.
School of the American Rifle is an AR15 Technical School located in Elkton, Maryland that focuses on the popular and modular, direct-impingement AR15 Rifle, Carbine, Short Barreled Rifle, and Pistol.
Our Master Gunsmith/Instructor is dedicated to guiding his students to develop a deep and thorough understanding of the AR15. Our training philosophy is simple, we strive to give each Student an intense and intimate understanding of their AR15 that rivals the knowledge that many professional Gunsmiths and Armorers possess.
We have witnessed the void in the Firearms/AR15 Community when it comes to hands on, and accurate technical firearm AR15 Instruction. There is an infinite amount of information available about the AR15 in on the Internet, Books, Magazines, and Video Media. It can be difficult for the novice to absorb the vast sea of information available and discern the good information from bad. This is why School of the American Rifle was born. The AR15 is the American Rifle, and Chad believes that one cannot fully exercise ones Second Amendment if they don't know their firearm. The AR15 is not just the "American Rifle" it's the most modular and adaptable military small arm produced to date. The ease of maintenance, acquiring spare parts, accessories, caliber swaps, barreled upper receiver swaps, and optic mounting is unrivaled.
There are countless Tactical Shooting Schools for individuals who seek to improve their shooting and firearms manipulation skills but few for Technical Firearms Training. Gunsmith Schools/Institutions are extremely expensive, can take years to complete, and require costly travel. Armorers Courses are often sponsored by Firearms Manufacturers and can be very selective on who is permitted attendance. Many only allow Military and Law Enforcement attendance. You will also find that some Armorer Schools are biased and push certain Brands and/or Manufacturers. That is not our philosophy. Regardless of who made your AR15 you are welcome to attend our Class.
Chad exhibits a passion for teaching and creating a SAFE, fun, professional, and enjoyable learning environment. Our technical AR15 Classes make it possible for the beginner, novice, and even seasoned AR15 owner to explore the AR15 in a challenging, engaging, and encouraging hands-on Classroom experience. Our Courses constantly evolve to keep up with the ever changing world of the AR15.
School of the American Rifle Students will depart knowing what is necessary to clean, maintain, gauge, repair, build, or modify their AR15. Each Student will walk away knowing how to ensure their AR15 is not only reliable, but exceeds their expectations. Our primary goal is to arm our Students with knowledge and information. Rest assured, we are NOT here to sell or promote, we are simply here to EDUCATE and transfer knowledge to our Students.